36th Conference of the International Association of Climatology, University of Bucharest.
Simon Gosling has attended the Conference of the International Association of Climatology in July 2023.
by Simon Gosling,  PROCLIAS WG3 Lead
---
I attended the first two days of the 36th Conference of the International Association of Climatology, held at the Faculty of Geography, University of Bucharest, on 3-4 July 2023, where I gave a keynote talk on the first morning.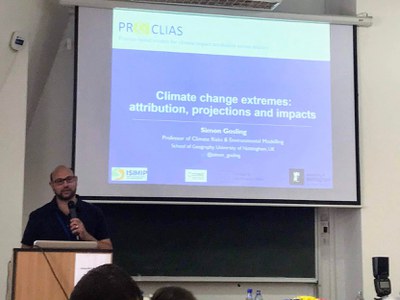 The morning sessions of the first day focussed on providing a summary of current frontiers and challenges in understanding extreme climatic events and their impacts on society. My keynote talk was an opportunity to disseminate some of the main outputs from recent PROCLIAS research and linked ISIMIP activity, particularly on attribution of climate change impacts and cross-sectoral risk assessment. I presented collaborative work that has been undertaken through these projects, including assessment of climate change on effective labour, attribution of historical changes in river flows, projections of future extreme events, risks to major ecological change in global rivers, and plans to model adaptation as part of the ISIMIP3 Group III simulations. My talk was also an opportunity to introduce PROCLIAS and to offer the opportunity to request to join the Action. The welcome reception at the end of the first day was held at the Bucharest City Hall.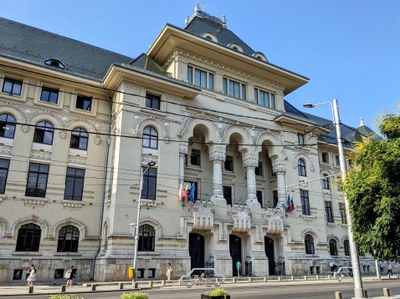 The sessions in the remainder of the first and second days that I attended the conference focussed on the analysis of historical climate trends and projections of future climate. Several talks touched on the management of extreme events, particularly risks from climate change to hydrology and human health. A number of talks also presented monitoring studies of surface water fluxes and health using technologies like drones, portable devices and satellites. Studies varied in scale, from city-scale to global.
It was a pleasure to speak at the conference and I enjoyed the stimulating and interesting talks. It was also a welcome opportunity to discuss some of the dissemination activities of Working Group 4 of the EU COST Action project PROCLIAS, with PROCLIAS members from Romania, Prof Liliana Zaharia and Dr Gabriela Iona-Toroimac. We explored a number of ways that our members' work with stakeholders could be demonstrated, such as through creating a map or a number of detailed case studies produced with stakeholders.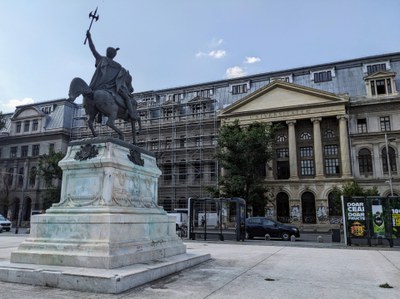 The International Association of Climatology was established in 1988 and meets annually, alternating between meetings in France and another country represented in the association's membership. The association is a professional, non-profit organisation joining researchers, academics, specialists and professionals in the field of climatology from all over the world.
The University of Bucharest, founded in 1864, has over 33,000 students across 20 Faculties. The Faculty of Geography was established in 1900 and has over 2,000 students, offering Undergraduate, Masters and PhD programmes.