PROCLIAS Taskgroup 3.2 Workshop in Venice
The second PROCLIAS TG3.2 on incorporating adaptation in labour impacts of climate change was held in Venice on 5-6 September 2022.
by Shouro Dasgupta
---
The workshop was organized by Centro Euro-Mediterraneo sui Cambiamenti Climatici (CMCC) in the central seat of Ca' Foscari University of Venice – overlooking the Grand Canal. Although it would be fun to write about the beauty of Venice, let us focus on the workshop.
The main aim of the workshop was to improve the assessment of climate impacts on labour by providing a framework for how labour adaptation in response to heat stress can be incorporated into adaptation modelling. The participants discussed and finalised a theoretical framework paper which will be submitted for peer-review soon. Discussions also took place on incorporating the framework in economic modelling. Deep-dive case studies using unique datasets from Israel and Latvia and collaborating with relevant stakeholders such as the EEA have been planned on heat stress, labour impacts, and occupational health and safety in the workforce. Professor Elizabeth Robinson, Professor Simon Gosling, Professor Francesco Bosello, and Dr. Shouro Dasgupta presented at the workshop.
We express our gratitude to the participants, Elena Niero (CMCC), and Martina Marina (CMCC) for making the workshop a great success.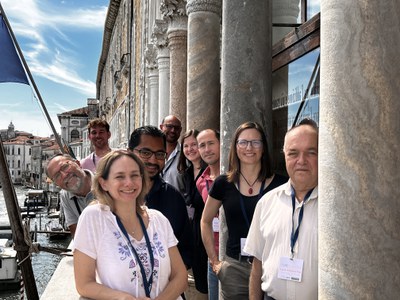 ---
Find out more about TG3.2.